By Greg Echlin
The final score read: Missouri 74, Iowa State 59.  But the most noticeable number in the Tigers' season opener was Friday night's attendance count.
A sold-out crowd of 15,061, including Missouri coaching legend Norm Stewart and several former Tiger greats, gathered for the opening of the Cuonzo Martin coaching era.  The crowd also got its first look at  Michael Porter Jr., albeit brief, and his brother Jontay against a legitimate but rebuilding Big 12 opponent.
Porter played only the two opening minutes, then sat out the rest of the game.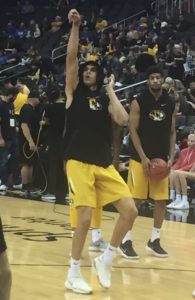 "He said, 'Coach, my leg's not feeling right, so that was pretty much it," said the precautionary Martin.
Without Porter, Jr., MU's leading scorers were two holdovers from last year's team, Kevin Puryear with 17 points and Jordan Barnett with 15.
But before showering MU with heaps of black and gold praise, including the extra glitter of the Golden Girls, let's flash back to the harsh reality of last season's opener against Alabama A&M.  The only common link between Missouri and Alabama A&M was the fact that both head coaches initiated what became the last season at each of their respective schools.  Willie Hayes stepped down as A&M's head coach after six seasons at the helm.
From the outset of his three-year stint as the Tigers head coach, Kim Anderson's return to Columbia after an outstanding playing career with the Tigers and later as Coach Norm Stewart's loyal assistant  got off to an inauspicious start.  The Tigers lost to UMKC, 69-61, to kick off Anderson's coaching tenure at MU.  It didn't get much better after that.
So by the time Missouri opened against Alabama A&M in Anderson's third year, interest in the program had already been on a steady decline.  It was evident in last year's season-opening crowd.  Tickets sold that night topped 9,100 in Mizzou Arena, with a capacity of more than 15,000, but less than 4,000 actually showed up.
MU's 99-44 win was a mirage.  The Tigers won only two SEC games in the regular season, one less than the three SEC victories in each of the two previous seasons.
Alan Volker of Tarkio, Mo., chose not to buy a season-ticket last season.  Closer to his home was Northwest Missouri State University, a more entertaining team as the eventual NCAA Division II national champion.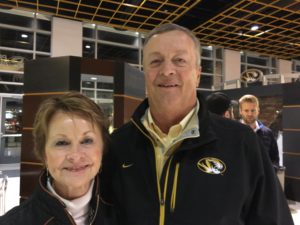 When asked for the reason Volker declined to buy an MU season-ticket, he said it was pretty simple, "The team was not very good and it was just bad basketball."  The day Martin was announced as the new head coach prompted Volker to get back in line for 2017-18 season tickets.
MU's public season ticket total last year added up to barely more than 5,800.  This year, public season tickets sold set a school record with 9,572. The top row in the opener against the Cyclones was filled again at Mizzou Arena for the first time in a long time.
Even the atmosphere around Columbia changed as local resident Melissa Bunger noted, "I can tell that there's more people in town going out and about today.  I think everyone is really excited."
With Michael Porter Jr. missing most of the game, a win by the team without him gave the fans an extra boost.