By Ian Echlin
It's possible that no other NCAA Basketball programs would sell out an arena for an October exhibition game.
The historic rivalry between Kansas and Missouri went on hiatus in 2012 when Missouri left the Big 12 for the SEC. The layover leaves a lot of fans in the Kansas City area thirsty for a regular season reunion. Point proven with a sold out crowd and more than 18,000 online pay-per-view subscriptions.
Even though it was just an exhibition, the game carried a deeper meaning with over $1.75 million raised for hurricane relief.
A lot of things fell into place for this exhibition game to happen, and it's going to take a lot more for a match-up during the season.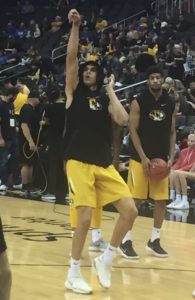 There's a lot of buzz around Missouri Tiger basketball after hiring a new coach, then commitments from three top-100 recruits. Tiger fans were eager to see this new team.
With a new look to the Tigers and the usual Kansas Jayhawk team, a mix of experience and two top-100 recruits, a match-up sounded good enough to sell to fans.
This exhibition happened with effort from Bill Self and the Kansas administration.  With the final numbers from the exhibition going to charity, maybe that's enough to tempt Kansas into renewing the rivalry game.
"We're not interested in what's best for Missouri or best Missouri fans, but if it's best for us to play them we will," head coach Bill Self said.
A match-up in the NCAA Tournament seems more realistic at this point. The NCAA selection committee tends to have a "sense of humor" when creating the bracket, and Missouri could make it to the tournament this season.
The scenario could play out with many possibilities. If the Tigers create success with their bright, young talent, a No. 8 or 9 seed doesn't seem like a longshot. Going off preseason polls, Kansas could be a No. 1 seed yet again.
After an early preview to the season, fans can cross their fingers for a second-round match-up in the NCAA Tournament.