By Ian Echlin
It's one thing to win back-to-back football national championships.  Being perfect for two straight years?  That's the targeted goal for the Northwest Missouri Bearcats.
It has never been done for a national title in school history.  But then, how many schools can brag about that?
The Bearcats (14-0) face the North Alabama Lions (11-1) for the NCAA Division II title at Children's Mercy Park (3 p.m. CT, ESPN2) in Kansas City, Kansas.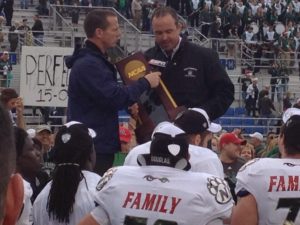 In his first five seasons, coach Adam Dorrel has already directed the Bearcats to two seasons with unblemished records.  Just never back-to-back.  Northwest's 29-game winning streak heading into the title game is the longest current streak on any level of college football.
Former coach Mel Tjeerdsma, currently the Bearcats athletics director, engineered the Bearcats' first national championship in school history in 1998, then repeated in '99.
Dorrel joined the Bearcat coaching staff in '99 as a graduate assistant. Two years removed from playing (1994-'97), he had a close personal view of the reconstruction into a NCAA Division II dynasty.
"For me it doesn't matter the year because I think about back then to now, there's a lot of similarities in the type of kids we have and the way we recruit and do things," said Dorrel.
The Bearcats haven't played North Alabama since the Tjeerdsma era. The Bearcats won both meetings against North Alabama, each time in the post-season in 2005 and '08.
With a chance for his third national title as a head coach at Northwest, Dorrel has made his impact on a prominent program that Tjeersma took to another level.  Now he can look at his legacy at Northwest.
"These guys will tell you it's not always easy," said Dorrel.  "It's challenging. It's trying. It's emotional at times, but I think we do a good job at keeping things in perspective, having fun and giving guys great life skills."