By Ian Echlin
Kansas Jayhawks senior guard Frank Mason wanted the crowd to be loud and we're not talking about the home crowd at Allen Fieldhouse. The extreme noise level from the Kansas State crowd for a visit from the in-state rival Jayhawks was unforgettable.
For someone piecing together a memorable senior season, Mason's response couldn't have been better in the Jayhawks 74-71 win over the Wildcats, allowing KU to maintain first place in the Big 12.
Coach Bill Self told his team before the game to feed off the atmosphere, and Mason soaked it up.
Coming off a career high 31-point game in KU's previous game, a home loss to Iowa State that snapped a 51-game winning streak at Allen Fieldhouse, Mason kept rolling with 21 points in the road win at K-State, 13 in the second half when the game was on the line.
"He makes big plays," Bill Self said. "He makes hard shots…He does a lot of things to give a team a chance to win."
Mason deserves the notoriety, and could reap in the awards when the season's over. He plays with experience and hustle. A dive into crowds sets an example and rallies his team.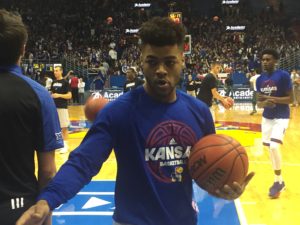 "I've never met a guy as small as him and as tough as him, but plays like that tend to rub off on us," freshman Josh Jackson said. "We see him make a play like that and it really steps up everybody's defensive intensity. "
Mason and the upperclassmen have seen KU teams with great potential the last three seasons, but fall short of making it to the Final Four.  Mason and Landen Lucas, two senior starters, now have their chance to lead another team with great potential perhaps a step further.
This team showed its chemistry on the road at K-State. Coming back after trailing by 12 in the first half, the team shined in the hostile road atmosphere.
Mason led the taunt toward Wildcat fans. The crowd quaked and Jayhawks will remember going forward the experience for other upcoming road similar atmospheres.
Hopefully, for Jayhawks fans, KU will thrive in those arenas.