Photo credit Iowa State Athletics Communications
By Greg Echlin
There's a reason the Kansas Jayhawks and Missouri Tigers continue to struggle in football under David Beaty and Barry Odom respectively.  They're letting the best prospects slip away.
Take Marcel Spears Jr., for example, a sophomore linebacker at Iowa State and the Big 12 Defensive Player of the Week for the second straight week.  KU and MU both wanted him when he attended Olathe North HS.  But his decision to go north to Ames has paid off as a starter this season after limited play last year mainly on special teams.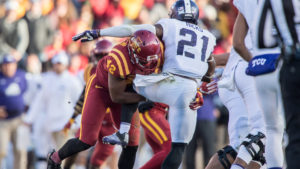 It has also been rewarding for Iowa State after beating two teams—Oklahoma and TCU—ranked in the top five this season.  Before this year, ISU had never beaten a top-five team.
At 4-1 in the Big 12, the Cyclones are tied for first with TCU, Oklahoma and Oklahoma State, but with wins over the Sooners and last Saturday over the Horned Frogs.  In the national picture, the Cyclones are No. 15 in the season's first ranking by the College Football Playoff selection committee.
Before the Big 12 title game went on a hiatus (2011-'16), the Cyclones never reached the championship game since the conference's first year in 1996.
When Spears Jr. was a senior at Olathe North, the Cyclones under former coach Paul Rhoads finished 0-9 in the Big 12 (2-10 overall).  But Spears Jr., who's very close to his family, discovered on his campus visit that his family felt very comfortable with the environment in Ames.  To Spears Jr., that was enough for him to commit to ISU.  No matter how much further it was than Lawrence or Columbia.
"Connection with me and my family, you can't break it," said Spears Jr.  "They're here (attending games) in Iowa.  If I go to Texas, they're there.  They're wherever I go.  That's forever."
On the field in 2015, when Spears Jr. took a redshirt year, it wasn't much better.
As a result, Rhoads was out.
Enter Matt Campbell, the former Toledo head coach.  The Cyclones have made gigantic strides since Campbell's first season in '16 (3-9, 2-7 in the Big 12).
It's the kind of progress KU and MU envy.  But may find unreachable if the top prospects in Kansas and Missouri go elsewhere.
Photos credited to Iowa State Athletics Communications