By Greg Echlin
When Kim Anderson looked at the American flag before the national anthem above the court in Central Missouri's Multi-Purpose Building, the 2014 NCAA Division II national championship banner was hanging next to it.  It reminded Anderson of his finest coaching moment.
At Pittsburg State, Anderson is restoring dignity to a coaching career that ended at his alma mater, the University of Missouri, last year after a disastrous three-year stint.  This season, MU has already doubled the eight victories the Tigers won last year.
When asked if he's following the Missouri Tigers this season, Anderson responded, "I have not watched a game at all.  No, I have not.  No malice intended."
Former UCM players showed up along with current Mizzou assistant coach Brad Loos, who was at Anderson's side at UCM and followed him to Columbia.  Cuonzo Martin retained Loos on his staff in his first year succeeding Anderson at Mizzou.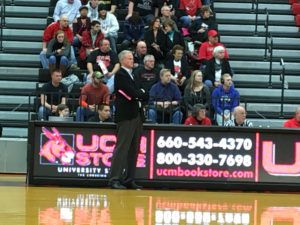 "It was bittersweet in a way because I had so many fond memories at UCM," said Loos two days after making the trip to Warrensburg.  "But I was happy to see UCM's doing great.  Coach A (Anderson) is doing great."
UCM cracked the top-25 in the NCAA Division II poll and pulled out a buzzer-beating victory, 87-85, to spoil Anderson's return.  PSU fell to 13-10 this season after the loss, but it's already a significant improvement from a year ago when the Gorillas won only five games.
"It's cool to be back and it's cool to be back in the Multi, but I'm disappointed that we lost," said Anderson.
When the starting lineups were introdruced, Anderson was cheered when it came time to name the coach of the opposing Gorillas.  The crowd kept cheering even as the PA announcer continued to name the PSU assistant coaches.  Anderson then waved to the crowd before the opening tip.
Anderson probably never shook more hands in an opponent's setting than that night in Warrensburg.  He said afterward he was glad it's over.  Maybe next year, in his estimation, he'll be booed.
With the championship banner serving as a reminder, it's doubtful Anderson will be booed in 2019 or in any year he returns to Warrensburg.
But in Columbia?  That's another story.