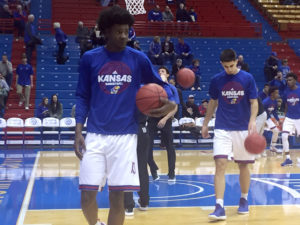 By Ian Echlin
Kansas Jayhawks freshman sensation Josh Jackson added the finishing touch to his career-high scoring effort against No. 2 Baylor on a go-ahead dunk with two minutes left in the game.
It was an example of Jackson's attitude toward seizing the moment against the best competition in the country.
"Steel sharpens steel," Jackson said after the game.
Game by game Jackson has improved and made strides in all phases. He credits the Jayhawks' tough schedule.
"I don't feel like you would get better if you were playing a bunch of guys who don't really want to compete or want to win," Jackson said. "It's even harder being Kansas because everybody just wants to beat you so bad."
He's thriving at forward fresh off back-to -back double-doubles against Kentucky and Baylor. He has also scored more than one three pointer in his last four games.  Jackson only had one game with multiple three-point field goals through the first 18 games.  But on free throws he admits he's working on it.
The timing couldn't be better as the Jayhawks face adversity with injuries and suspensions. With sole possession of first place in the Big 12 at 8-1, Bill Self said he's still taking the season game by game without mentioning the 12-year conference streak on the line this year.
"If we hadn't have won tonight we obviously weren't out of the race, but we know that it would be even more of an uphill climb," Self said after the win.
Self said that he can't be surprised by what Jackson does because of the ability he's seen for himself. The constant improvements by Jackson could be the secret ingredient to seal KU's 13th consecutive conference title. With no ceiling on Jackson's ability, he could help make a deep NCAA tournament run in the unpredictable future.
In the one-and-done era KU hasn't had a player with a hot hand perform in clutch situations in the NCAA tournament.  In the 2008 championship game, the one-and-done player, Derrick Rose, was on the losing team.   Andrew Wiggins had NBA talent, but never came up big when the Jayhawks needed it. The same goes for Kelly Oubre and Cheick Diallo.
Until now, perhaps, with Jackson.
It's hard to say if KU will face any more adversity for the remainder of the season. A deep NCAA tournament run is possible, but after the win against Baylor the Jayhawks showed they have the stuff to tie UCLA's consecutive conference title record.