By Greg Echlin
Across the parking lot, the Kansas City Royals set the standard when welcoming back old friends.  The Chiefs, however, missed the cue when the moment called for them to recognize their all-time leading rusher, Jamaal Charles.
Before Charles—in his first season with the Denver Broncos after the Chiefs released him last spring—was stripped of the ball by Marcus Peters in the first quarter that resulted in a Chiefs touchdown Monday night, the Chiefs were the ones who fumbled before the game even started.
Last summer, the Royals took it upon themselves to recognize Jarrod Dyson and Greg Holland in their first games back with their respective teams, the Seattle Mariners and Colorado Rockies, through video tributes on the center field scoreboard.  Dyson played on both World Series teams in 2014 and '15; Holland was destined for the '15 Series before Tommy John surgery sidelined him.
Though each wore opposing-team uniforms in 2017, it was an act of class by the Royals to recognize Dyson and Holland in front of their appreciative fans.  For the all the highlights Charles provided at Arrowhead Stadium, however, he was denied the love he deserved prior to the game's kickoff.  Before the game quickly went south for Charles in the twilight of his career.
"When he's done playing, we're going to love up on him," said Chiefs president Mark Donovan.  "He's a great player and he's playing for the other team right now."
He flashed some of that speed Chiefs fans were accustomed to seeing with an 18-yard carry the first time he touched the ball against his former team.  But Chiefs fans also remember some of those same painful moments when Charles fumbled.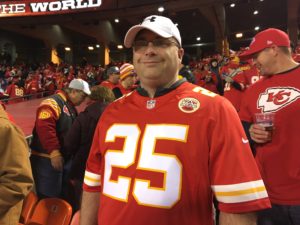 Fans like Matt Young of House Springs, Mo., who wore a No. 25 Jamaal Charles jersey to the game, wondered what the reaction would be.  "It's been a really hot topic, especially on Facebook," he said.
Young was adamant against booing Charles.  "It wasn't his fault.  He got cut and released," said Young.  "It's not like he abandoned his team."
Granted, Chiefs introductions are carefully choreographed before the game.  But when recent developments call for a moment of silence prior to the national anthem, the Chiefs work that in the mix.  Yet somehow—even during pre-game warm-ups when the Broncos take the field in front of half-filled grandstands—the Chiefs did nothing.
Ironically, before the game, Len Dawson was deservedly being recognized for his broadcast history with the Chiefs among several Pro Football Hall of Famers in town for alumni weekend.
During the Dawson ceremony, Chiefs chairman of the board Clark Hunt said, "So many of our players made such an impact on the field and built the franchise into what it is today."
Too bad the Chiefs forgot about one of those players who made a tremendous impact.