By Greg Echlin
Eddie Robinson prefers to take the high road.
As the only surviving starter of the 1948 Cleveland Indians World Series championship team, he has every reason to feel bitter for not being invited back to the city where he experienced the most enjoyable season of his 13-year playing career.
Is he disappointed? Yes.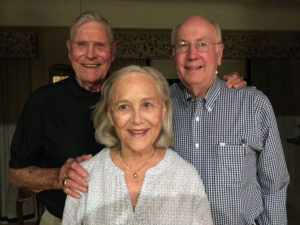 But in his leather-cushioned chair Robinson sat and comfortably watched Game Two of the World Series with yours truly, his wife Bette to whom he's been married for almost 61 years and his biographer C. Paul Rogers III, who collaborated with Robinson to write Lucky Me in 2011.
Don't get the idea that Robinson is too feeble at his age to be moving around.  The week before, Robinson twice played nine holes of golf.  Airport travel didn't deter him either from attending Old-Timers Day at Yankee Stadium this past summer with former teammate Dr. Bobby Brown, another 90-plus marvel.  In 1955 Robinson set a major league record with the Yankees for the most home runs (16) in fewest at-bats while sharing first base duties with Moose Skowron and Joe Collins.
In '48 it wasn't like Robinson was in the majors for a cup of coffee like Ray Boone, the patriarch of the baseball Boone family, who appeared in six games for the Indians that year.
In 134 games for the Indians during '48, Robinson slammed 16 homers and drove in 83 runs over a season that ended in a dead heat after the regular season.  Resembling the modern day wild card format of a one-game, loser-goes-home scenario, the Indians sent the Red Sox home in a playoff while advancing to the World Series to play the other Beantown team, the Braves whom they defeated in six games.
Instead the Indians chose Kenny Lofton and Carlos Baerga, two of team's main figures in the Indians' run to the World Series in 1995 and '97, to throw out the ceremonial first pitch in Game 1 and 2.
Uh, excuse me, did the Indians win the World Series in either of those seasons?
In America's pastime, the sport noted more for tradition than any other, the Indians should be charged with an error.  An error with a capital E.