By Greg Echlin
Kevin Ernst of Van Meter, Iowa, admits it.  He grew up a Chicago Cubs fan.
But after marrying into a family loyal to the Cleveland Indians because of the town's most famous native son, Hall of Fame pitcher Bob Feller, he leans toward rooting for the Indians.
Six years after Feller died, Ernst claims a few Indians fans linger in Van Meter.  Mainly due to Feller's roots and the now-closed museum Feller established in Van Meter.  A few because of Casey Blake, with the Indians from 2003 to '08, who lives in nearby Indianola.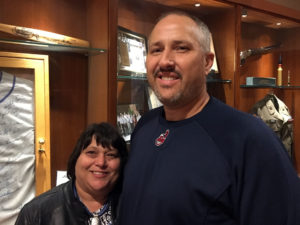 Though a sign on Interstate 80 indicates that there's still a museum off the Van Meter exit, it was converted two years ago to Van Meter's city hall.
Cubs fans dominate central Iowa with the I-Cubs AAA team based in Des Moines, a 25-minute drive from Van Meter.  Many of the current Cubs on their World Series roster cut their teeth with the I-Cubs.
The Feller link to the area is part of bygone era.
No one from the Feller family lives in Van Meter anymore.  The closest a Feller relative lives in proximity to Van Meter is cousin Raymond Forret, 83, a retired schoolteacher and uninterested baseball fan in West Des Moines.  In Feller's twilight years as a Cleveland resident, he made only a handful of trips to Van Meter for special autograph events.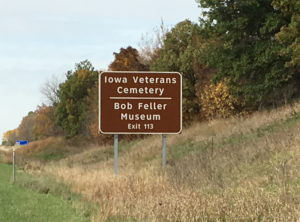 But judging from the appearance of the city hall exterior, you'd never know  there's a scant number of Indians fans.  The city of Van Meter has maintained the integrity of the brick building for its original purpose.  Outside and inside. The brick facade on the building's north side displays a Feller image and, with an enlarged baseball at the front entrance, there's a definite feel to a Feller presence.
Though the amount of Feller memorabilia is downsized considerably from its museum days, autographed photos hang on the hallway wall and artifacts are displayed inside glass cases of what is a meeting room with a table in the middle and a Chief Wahoo logo above.
Unless you walked into city hall, you'd have no idea these days of how much a little Iowa town pulled for the Cleveland Indians at one time.