By Ian Echlin
Among the thousands of tailgaters before Kansas City Chiefs games at Arrowhead Stadium, the angel of Harambe is present. One group of tailgaters sees to it.
Fifth-year season ticket holder David Schrunk of Kansas City, Mo., hoists his custom-made "RIP Chief Harambe" flag to start every Sunday tailgate.
"For us it's just kind of a ceremonial thing to open the tailgate; we put the flag up," Shrunk said. "It's just a fun way to start the day off."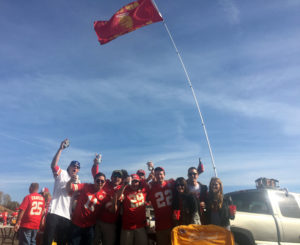 Experienced with the Chief tailgate spectacle, Schrunk knows it gets tricky to round up his group at the same time hordes of fans flood into stadium parking lots hours before kickoff.
The Harambe flag works as a marker for Schrunk's friends to find his tailgate location, and it's meant to mark a memorial to his fallen hero.
"We thought about someone we loved, and decided on Harambe flag," Schrunk said.
Shrunk and his friends came up with the design for the flag, then went to All Nation's Flag Co. in Kansas City, Mo. to have it made for reasons of pride to fly on game day.
The world continues to mourn months after Harambe's precautious euthanasia. The flag stands tall at Arrowhead as a reminder for all.