Above photo credit: Al Chang, StanfordPhoto.com
By Greg Echlin
Audriana Fitzmorris and Jenna Gray played side-by-side at St. James High School in suburban Kansas City.  But believe it or not they didn't know for sure where the other was going until Gray, a 6'1" setter, and Fitzmorris, a 6'6" middle blocker,   had signed letters-of-intent with Stanford.
Though it may have seemed like a package deal for then-coach John Dunning, it was not.
"We didn't talk a whole lot about it before," Gray said.  "We were both really focused in (high) school and at one of the top programs  for volleyball."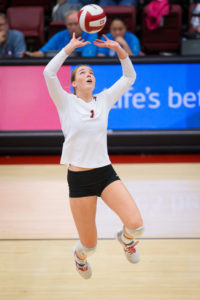 In their sophomore seasons with The Cardinal, Fitzmorris was named First Team All-Pac 12 and Gray tabbed the Pac 12 Setter of the Year.  As one of four regional hosts, No. 3 Stanford (28-2), the defending NCAA champion, takes on unseeded Wisconsin (22-9) in a regional semi (8 p.m. PT) before the winner advances to face either No. 11 Utah or sixth-seeded Texas for the right to play in Kansas City for the NCAA championship.
"I think that Kansas City is a great place for it to be hosted this year," Fitzmorris.  "It's a great opportunity to see the game of volleyball and support women's sports."
Not to mention that it would be a homecoming trip for Gray and Fitzmorris.
Kevin Hambly, successor to the retired Dunning on The Farm after eight seasons at Illinois, is glad the tandem didn't go their separate ways.
"We kept the cards held at our chest the entire time," said Gray, though each had an inkling since both took a Palo Alto recruiting trip at the same time.
Gray added, "We still talked a lot about how much we loved Stanford after our visits."
Gray accounted for 35 of Stanford's 39 assists in the The Cardinal's second-round victory (3-0) over Colorado State.  Stanford has yet to lose a set in the first two rounds.  After a match-high ten kills and hitting a career-high .833 in the first round victory over CSU-Bakersfield, Fitzmorris contributed with eight kills and seven blocks against the Rams.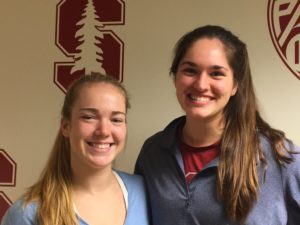 Their high school coach at St. James was Nancy Dorsey, a former volleyball player at the University of Kansas.  But when it was time to decide on where to attend college, Fitzmorris said there was no swaying toward Lawrence.
"She (Dorsey) was a very supportive person to be in contact with coaches, a coach that I really trusted throughout the recruiting process.," said Fitzmorris.
With Stanford being so far from K.C., Gray said it's nice to have a familiar face from her same hometown.  From experiencing the national championship moment last year to dealing with the unexpected news of Dunning's retirement shortly after.
"There was a lot of uncertainty and a lot of changes.  You're not really sure how to adjust.  However, everyone gets through them and learns how to adapt," recalled Fitzmorris, a human biology major who'd like to attend med school after a hoped for international volleyball career.
Gray, meantime, is balancing her academics with three sports at Stanford.  She'll play beach and throw the javelin for The Cardinal track and field team.
"We've had a little bit of taste (of it) in high school balancing that, but being here you really, really have to be diligent about getting your work done and timing your weeks," said Gray.
Their circuitous road map may just lead back to Sprint Center in a couple weeks where they both attended the 2010 women's volleyball final four.