By Greg Echlin
As commentators they're joined at the hip.  When asked before the figure skating media session if NBC commentators Tara Lipinski and Johnny Weir would be meeting separately, the response was "Tara and Johnny always do everything together." 
Well, not everything.
Both have their own lives separate from the arena.  But their chemistry on the air surpasses Will and Grace.
The formers skaters, comfortable in an ice rink environment, are in Kansas City for NBC's coverage of the U.S. Figure Skating Championships.  Weir is a three-time national champion and Lipinski a national champion, world champion and Olympic gold medalist.  Though their podcast number draws more than 1.4 million listeners by talking about their pets and non-sports topics, they're back home when commenting on the skaters.
"It's a unique situation," said Lipinski.  "But that's why we love being at something like nationals."
Weir chimed in, "It's a different animal."
"It's in a different little box," said Lipinski when referring back to the podcast.  "This (figure skating) is what we know.  I grew up in the sport."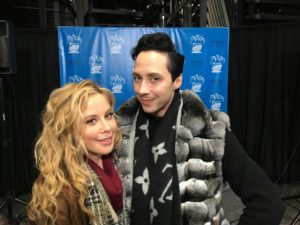 Then Lipinski looked at Weir, "You grew up in the sport."
Lipinski went on.  "We know everything there is about skating and the skating world.  We enjoy being able to lend our expertise.  This is our serious Tara and Johnny moment."
And, as Lipinski said that, both of them laughed. Which is why they work so well together. They don't take themselves too seriously and push the envelope with their on-air outfits.
"We keep it fun," said Lipinski.
They're a breath of fresh air to a sport that has slipped in ratings and attendance.
When Lipinski won her national championship in 1997, the seats in the upper and lower levels were filled.  For the first night of senior competition on Thursday night at Sprint Center, only the lower bowl of the arena was open to seating.
Both of them are working to see those upper levels filled again one day.