By Greg Echlin
While America went to the polls for Election Day, a memorial service attended by around 150 friends and family was held in small-town Ringling, Okla., for former major leaguer and Navy veteran Eddie Carnett who died shortly after he turned 100.
Because Carnett was stricken by a stroke shortly before his 100th birthday, no one knew for sure if he was aware of the World Series being played between the Chicago Cubs and Cleveland Indians.  But he had a vested interest in both cities.  Carnett began his professional career with the Cubs organization as a pitcher, then played for the Chicago White Sox in 1944 and the Indians in '45.
MaryLee, Carnett's wife of almost 76 years—they would have celebrated their anniversary on Nov. 29—kept him updated throughout the Series whether he was able to comprehend it or not.  Everyone now believes he knew.
The year after the Cubs won the pennant in 1938, Carnett attended their spring training camp on Catalina Island.  He already had four seasons in the minors under his belt, but by then was battling shoulder issues.  Carnett later would say that his biggest regret in baseball was not fulfilling the potential he believed he had as a pitcher.  His pitching idol was Hall of Fame pitcher and fellow Oklahoman Carl Hubbell.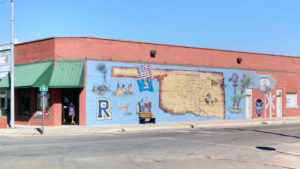 While in Ponca City (Okla.) High School, Carnett had the opportunity to travel with his American Legion all-star teammates to Washington, D.C., for the 1933 World Series between the Senators and New York Giants.  There, Carnett saw Hubbell pitch for the Giants.
In each season with the White Sox and Indians, Carnett made two pitching appearances.  But most of his playing time in the big leagues was in the outfield and at first base.  For the White Sox in '44, Carnett batted .276 and drove in 60 runs.
Carnett's most notable RBI that season was one that was nullified.  Against the St. Louis Browns in September, while the Browns fought for the pennant they eventually won, Carnett singled home Wally Moses to open the game's scoring in the top of the first.  But Browns manager Luke Sewell pointed out to the umpire that the lineup White Sox manager Jimmy Dykes presented before the game was different than the order from which the Sox batted.  As a result, Carnett was called for the third out.  Both the run and Carnett's RBI were taken away.
"The umpire called me out and I thought he said I missed first base at first, but it wasn't that," said Carnett in a 2004 interview.  "He said he called me out for hitting out of turn.  I said, 'You've got to be kidding!'"
His last season in the majors was cut short by his service time in the Navy.  A salute to you, Eddie Carnett, for your service and 100 years among us.