By Ian Echlin
The pressure of past Madness lingers for the Baylor Bears.
Baylor enters a school-record fourth consecutive NCAA Tournament appearance with a bittersweet feeling. Being upset in the first round as a top-5 seed two years in a row is something no one at Baylor wants to even mention.
When asked about it senior Ishmail Wainright said, "What happened the last two years?"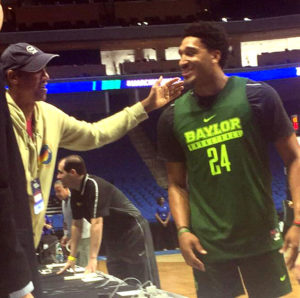 He went on to say the painful past hasn't really been mentioned, and a team filled with experienced upperclassmen wants to scrub their memories of those recent tournament busts.
Coach Scott Drew said he's keeping the usual routine, hoping his team is rested for its opening round game against New Mexico State.
"We've gotten banged up," Drew said. "We've gotten a chance to get healthy, so hopefully we can finish playing our best basketball for the rest of the year. "
It's hard to find an answer for the past early exits, but this year Drew admires the leadership from his only senior Wainright.
There's no doubt that Drew and his players recognize the weight of the first round game.
When the media asked BU's leading scorer, Jonathan Motley, about the prospect of playing against high school teammate Jarrey Foster from SMU in the second round it was evident that Motley knows that Baylor can't take the first round for granted.
"We've got to take it one game at a time, you know we have to get past New Mexico State first. But yeah, it would be awesome to see my old teammate again," Motley said.
The window could be closing on Baylor with uncertainty going into the offseason. Baylor will lose Wainright and Motley is expected to declare for the draft.
With uncertainty in the strength of the team going forward, Baylor faces a grind to earn a Sweet 16 berth and/or fight their way to Drew's third Elite Eight appearance as head coach at Baylor.
Then a possible 2010 NCAA Tournament rematch against a red hot Duke team lingers down the road.